WELCOME TO CADA Performing Arts
At CADA Performing Arts, pupils will gain in self-confidence, self-esteem, strong team skills. These skills are taught in a relaxed, friendly atmosphere and will benefit you throughout your life. We are a family.
CADA Performing Arts is a centre for performers, communicators and explorers who use CADA as a place where they can stretch themselves, make new friends, learn new skills and discover how much they can grow. But most importantly to have fun while reaching their potential.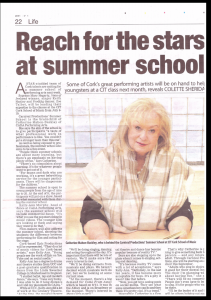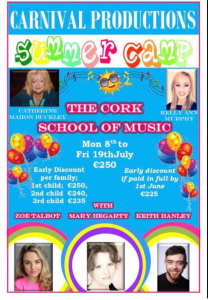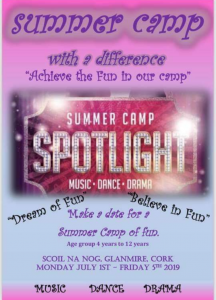 NEWS
Superb article in the Echo last night by Collette Sheridan. She really captured the very essence of what the Summer School is about – Fun – Laughter – Learning the professional trail of life in the Performing Arts
Summer Camp: We are delighted to announce our superb summer camp details! A camp with a real difference. Monday 8th July to Friday 19th July. Carnival Productions camp next week at the Cork School of Music and what a carnival it will be with May Hegarty, Keith Hanley, Zoe Talbot and Jimmy Brockie. Co-ordinator Kelly-Ann Murphy. Some places still available. If you are 9 – 18 book now and "Have the time of your life"
Glanmire Summer Camp:Camp had it's first day in the Spotlight Camp at Scoil na nOg. What a wonderful group of campers. Really exciting day. Day two, more fun and games
Lovely message from Barry Darcy: Just want to say huge thank you to the all the staff at Cada Performing Arts school for inviting me to perform at their end of year show Youghal's Got Talent. It was such a great pleasure to see all the young talented kids with such confidence getting up on stage and performing their acts. We were treated to story tellers, dancers, singers a real mix of all the arts. What really stood out also apart from the amazing talent was the True sense oftogetherness amongst all the students and how they all supported and helped each other through the performances. This is obviously embedded in the culture of the school and really creates a safe place for young talented people to Express themselves to their full potential. Listening to Catherine speak about the kids and about the amazing teachers they have At CADA you could really see that there was a level of caring that goes way above a student teacher relationship and more like a family. I would strongly recommend this school if you have any member of your family interested in getting involved in performing. Check out their Facebook page for details of their upcoming summer camp which I have no doubt will be amazing and a great opportunity for anyone to test and learn about developing their performing skills. Well done to all the students on an amazing show and thank you for allowing me to be part of it. Remember the world really is your oyster so dream big, hold on to your dreams as tight as possible, work hard and when the time is right your dreams will be your reality.
DANCE
Ballet the basis of all dance – creating beauty through line. It develops control, strength and posture.
Jazz originated from the Southern States of America in the 1920's. Jazz dance is an umbrella term that can refer to several related dance styles. It has become one of the most popular dance styles in recent years, its fast, energetic movements are performed smoothly without visible strain.
SPEECH & DRAMA
We provide the widest possible range of Speech, Drama, Theatre Skills, Public Speaking, Dance and Singing for our students and this is reflected in our schedule of classes.
Speech intended to encourage our pupils to attain a good standard of speech. Work on voice and diction coupled with the study, appreciation and interpretation of literature, including Shakespeare.
Acting helps our pupils with all aspects of communication. This section covers naturalness, spontaneity, clarity, diction, interpretation and presentation of dramatists, past and present.
VOCAL
Singing for pupils who wish to develop their singing and voice skills especially for performance. Solo classes can be arranged by contacting the Academy.
Singing Group Auditions for to join the class will take place in the Academy. Students will be invited to join this group.
The Mirror
by Ben Mulcahy
I sat in the centre of a room
It had three white walls
Nothing special
Just plastered and painted
Could have been recreated anywhere by anyone,
On the fourth wall – there is a mirror
The mirror gives meaning to this place
What we see in it makes everything clear
We see the people
It is the passion shared between these few,
They watch with tentative joy at what in any other company would be a very dull affair
Soaking up the rare spectacle, people doing something they love
Through the mirror,
They hurry and fluster about,
With the run up to the show
Like a well oiled machine,
Everyone with a role to play,
Collective, working towards a goal
A true wonder in this world
From the mirror we witness the hard work that motivates me
The sound of inside jokes, crafted from memories of time well spent
They resound pleasantly in my ears
In this mirror, I look upon faces of friends,
Safe in the knowledge that the undoubtable
Talent that circled the room was destined for greatness.
I felt honoured, not only to be amongst the best teachers, leaders and students
But honoured to have found the only group I have known with such a natural ability to work together
There was no conflict, rivalry, no groups, cliques or "cool kids"
Everyone was free to be whoever, whatever, they wanted.
In this mirror I felt myself in the presence of the best in humanity
All in one room, thick as thieves
With this exact moment, in this inimitable mirror – time had stopped.
I had found its' purpose, my purpose!
A meaning I had never felt before
I saw this place with fresh eyes
It isn't about the white walls,
It is what is in "The Mirror".
This, a place I could call home
A place, I would always be welcome
A tribute to CADA from Ben Mulcahy of his time as a pupil.
Ben is now in Dublin studying Economics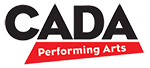 "CADA Is where I learnt how to be a triple threat performer. I was exposed to the various disciplines of Theatre and encouraged to combine these skills through many wonderful performance opportunities. The nurturing faculty of the highest standard enabled me to grow in confidence both as a performer and an individual. The discipline and theatre etiquette that was instilled in me at CADA is something that has greatly enhanced my professional career. I made friends and memories for life, the academy holds a very fond place in my heart."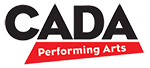 "One of the best things that ever happened to our son Diarmuid, over ten years ago, was finding CADA. Diarmuid has special needs and his dance and drama theater class every week has helped him to develop into a fine young man. He has gained an appreciation of the arts and performing has become his first love. The dedication to students by Catherine Mahon Buckley and her staff is second to none. Student safety is paramount and CADA is an academy where enjoyment and performance are encouraged in an inclusive setting. I would recommend CADA highly to anyone who loves the stage."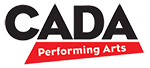 "CADA was a home for me I spent 10 of the best years of my life there and wouldn't change a thing, the friendships, training and family atmosphere is incredible. Getting to perform in the Everyman Panto every year taught me more than I could imagine and gave me the confidence to perform on stage."